---
Welcome To IILM Institute For Higher Education!
Study Abroad Program – Part of PGDM
To generate and promote knowledge, develop new and innovative ideas in academics and to respond to the changing business scenario in the country, IILM Institute has undertaken the task of developing comprehensive case studies in functional and general management areas. It is the natural home for students, lecturers, and societies. Delivery of journal content via the internet has led to new markets opening up across the world. The faculty at IILM Institute is actively involved in various consultancy assignments for business and social organizations across management functions and in bringing these experiences into the write-ups and consequently leading to enhance the student's ability to relate concepts to real life situations. Case writings help in generating and promoting knowledge and developing new and innovative ideas in academics.
In this section, you would find a collection of Digital data with respect to Management & change at IILM, a variety of Casebooks with rich collection of different case-studies and the in-house publication magazine of IILM-EDGE.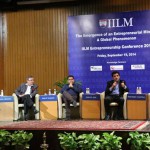 IILM Third International Conference
"Responsible Management Education, Training and Practice"
7 to 9 January 2016
IILM Lodhi Road Campus, New Delhi
---
IILM is committed to the Principles of Responsible Management Education in letter and spirit. IILM's Vision states "IILM will be a leader in values based management education and business focused research".
IILM mission focuses on :
(a) A deep commitment to sustainable development and a green environment,
(b) An appreciation of the cultural heritage and socio-economic diversity of India.
As an institute we are committed to take the case of responsible management to educational institutions and corporates across South Asia and beyond. IILM First International Conference on Responsible Management Education and Practice, organized in January 2014, and IILM second International Conference on Responsible Management Education, Training and Practice held in January 2015, set key milestones in the journey of IILM.
IILM's Third International Conference "Responsible Management Education, Training and Practice", scheduled from 7th to 9th January 2016, is inspired by Sustainable Development Goals (SDGs) of the United Nations.
United Nations Sustainable Development Goals (SDGs) represent universal transformative agenda, focusing on well being and sustainability of all countries for the present and future generations. A highly connected world means that policies in any country can make a major impact across the globe.
IILM's Second International Conference "Responsible Management Education, Training and Practice" from 8 to 10 January 2015, at IILM Lodhi Road Campus, New Delhi
---
IILM is organizing Second International Conference on "Responsible Management Education, Training, and Practice" from 8th to 10th January 2015. This conference is supported by PRME initiative of UN Global Compact. IILM was inducted as a champion business school by PRME at the UN Leaders Summit in New York in September 2013.
The conference will invite globally reputed and nationally recognized academics, captains of industry and other leaders to share, deliberate and discuss views on issues related to PRME and Sustainable Development Goals (SDGs) of the United Nations Global Compact. Besides discussions and views from top managements, the conference is also research intensive and will showcase selected papers from researchers on the above themes from across the world.  Read More..
Globally Benchmarked Curriculum::
---
The course curriculum embeds Business Simulation and Case studies in its core delivery method. The programme is designed to offer inbuilt flexibility advantageous to students in cognizance of varying learning needs and capabilities and also their professional involvement in corporate workspace. With 25 years of experience in training future entrepreneurs and managers, IILM is proud to have 9000+ well placed alumni in top companies across India and abroad.
Our curriculum imbibes the best aspects of courses offered at top business schools around the world. The course modules are inspired by the Stanford Graduate School of Business, Wharton Business School and IIM-A. The curriculum combines experiential learning so that students are capable of turning concepts into effective decision making, initiating action from knowledge and converting ideas into change. The program is delivered in 6 terms; each term spread over 3 calendar months
Global Study:
---
In today's business environment, it has become vital to tap into global markets in order to ensure the viability of a venture. Creating and maintaining international relationships and networks are the key skills that all managers are expected to have in the integrated global economy. Meeting global norms are of major concern.
In keeping with these requirements of the ever-globalizing environment, IILM mandates a 4-week global study in Germany, Canada, Finland, France or Spain. The purpose of the global study is to give students a global exposure in terms of teaching pedagogy, industry visits and diverse cultural immersion to enable them to expand and develop their outlook.
During this four week period, the students not only acquire the knowledge of the modules but also the skills like better team working, understanding and accepting diversity and learning about the cultural context. This helps to widen their horizon
Strong Mentoring Program:
---
The mentoring program at IILM is geared to provide students with the necessary skill set that they will need to compete in the current business environment. The Program supports students' continuous growth, development and the building of personal and professional capabilities. An individual faculty member is allotted to each student as a mentor for the term of his/her PGDM. This allocation is based on the student's profile and previous work experience so that the mentoring is relevant and not mismatched. The faculty mentor guides and advises the student on a regular basis so that his/ her best interests are met. A personal relationship is created which allows for a complete understanding of the student's aspirations, strengths and weaknesses. This information then filters down into a customized development of the student.
Internships:
---
At IILM Summer Internship is taken very seriously and is a major part of the curriculum activity. The students are put through a work shop prior to the summer intern to ensure that they understand the importance and the learning process. Our curriculum mandates a 3-month long internship, meant to provide a first-hand experience of the business world. Moving from the classroom to the corporate reality through summer internships makes our students more proficient at handling real life challenges making effective decisions. It will acquaint students with the demands of professional world of work in terms of knowledge, skills and attitude to perform effectively. This short term experience provides a real insight into what it's actually like working in a particular job or career field.
Placements:
---
IILM has a robust placement cell called Career Development Center (CDC) headed by senior industry professional that are well connected with different sectors of Industry. The Career Development Cell constantly engages the industry through various activities and mentors the students on the selection of right career path. The students are prepared right from resume writing to aptitude test besides group discussions and interview. The CDC through its mentors prepares the students even on acquiring and demonstrating the right personality traits that are essential for selection
Right from beefing up our alumni connect to running experiential courses like FIELD (Field Immersion Experiences for Leadership Development) & Career Trek. Students joining a Business-School are primarily concerned with placements. We at IILM, understand this need to set a path to the future and aim at securing the best possible industrial experience for our students.
Ideal placement opportunities are sought for students based on their aptitudes and interests. Placement week is an event organized on campus where recruiters come to campus to interact with students. They brief students on the job skills required for their industry and clarify doubts regarding the same. Students get an idea of the various industries available to them and can make decisions on what they are best suited for. Our recruiters comprise of over 300 companies across the country spanning over a range of industries
Full Time Faculty with Rich Industry Experience::
IILM faculty members are passionate and curious individuals from diverse fields who continue their own research while teaching at IILM. In an endeavour to develop IILM's vision to educate, develop innovative entrepreneurial and responsible business leaders and matching world class teaching methodologies, we draw strength from the international arena on the basis of their research excellence and teaching acumen.
Our faculty comes from leading institutions across the country and have diverse industry experience. They are always available to answer queries and clarify any doubts students may have. The PGDM faculty are knowledge creators who rigorously peruse research in their fields
---
9000+ well-placed alumni:
---
Alumni are a very important resource of any university and at IILM we are proud to have a huge network of over 9000 alumni who are well placed at various capacities across industries both domestically and abroad. They have risen to high ranks and hold excellent positions in reputed companies.
We strive to engage with our alumni in various ways. They are invited to interact with students to motivate them about careers or to deliver guest lectures on topics of their expertise. They are consulted with regards to suggestions of industry specific workshops to hone our students' skills. They also become alumni mentors to our students, thus providing them with first-hand knowledge and experienced advice along with a platform for networking. They are invited to sit on panels to conduct SIP viva and/or judge SIP report and become a part of our Board of Governors. We also maintain relationships with them by organizing annual meets on campus.
Centrally Located Campuses & Residences::
---
IILM has 3 campuses that are centrally located in New Delhi, Gurgaon and Greater Noida. But the goal driving them forward is one and the same – to train and develop skilled and responsible managers of the future.
Lodhi Road is the hub of South Delhi, bustling with activities and places to visit. Being at the political centre of the country allows students to be privy to first hand developments in business and politics alike.
The Gurgaon campus is located on Golf Course Road, in the heart of the industrial hub of Gurgaon – an epicentre of industry as well as start-ups. Our students have the advantage of gaining the rich knowledge of business and entrepreneurship from their surroundings as well as our in-house incubation centre.
As for our Greater Noida Campus, it is located in the Knowledge Park of Greater Noida with easy access to companies like LG and Moser Baer. Educational institutions in the area also provide a platform for networking and knowledge sharing.
Our Gurgaon and Greater Noida campuses provide safe and secure residences for students and faculty alike. Constant monitoring by security guards and cameras, comfortably furnished apartments, delicious and wholesome food, and a friendly environment ensure that students can live in a safe and comfortable haven – a 'home away from home.
.
Merit and Means Scholarships and Loans::
---
In our effort to make education more affordable to students, we have made provisions for scholarships on the basis of merit and need. We also have partnerships with certain banks so as to make the procedure for application of loans a little easier for students.
Scholarships for Girls
Scholarships for students with Bachelor's Degree in Engineering
Open Merit Scholarships
Merit cum Means Scholarship
Scholarship for Outstanding Achievements in Sports or Bravery
Scholarship for J&K and North East domiciled students
Scholarship for children of Defence Forces Personnel
---