---
IILM offers a vibrant campus environment to its students
Clubs – Our clubs are an integral part of our educational framework. These are primarily student driven initiatives. The key benefit of the clubs is the broad exposure offered to students to manifest their ideas creatively and purposefully.
The list of clubs at IILM include Creativity Club, IT Club, Entrepreneurship Club, Research Club, Quiz Club, Book Worm Club, Photography Club, Library Club, Bloggers Club, Healthy Managers Club, Strategy Club, Sports Club, Debating Club, NGO Club, Cultural Club, Adventure Club, Marketing Club, Theatre Club, Film Making Club, and the Environmental Club. In all, there are 23 clubs. Every club has objectives of creating awareness, generating interests, and organizing related events and programs.
Cultural Events at the IILM campus
A large number of events are organized at IILM throughout the year
Dandiya Dance Festival at IILM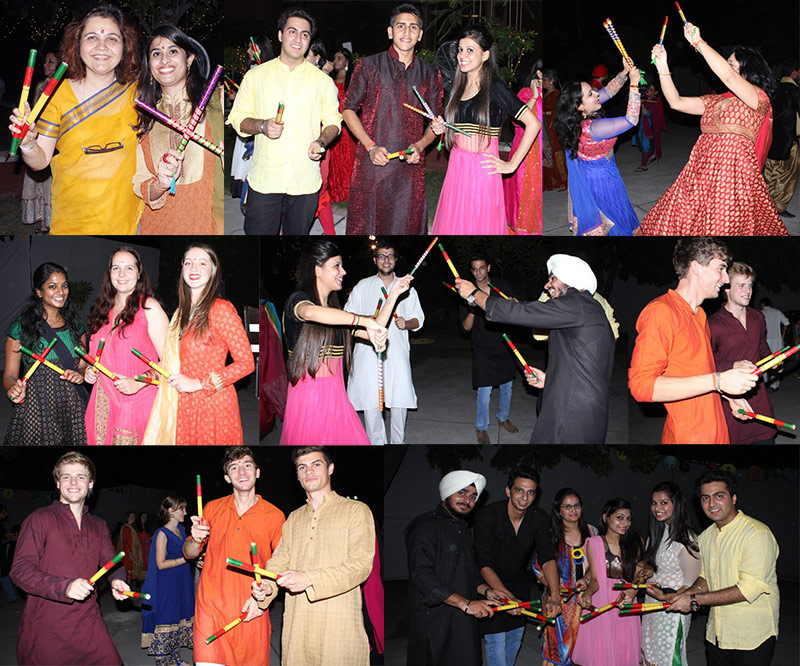 Visiting exchange students participating in Dandiya Dance in one of the Club events
IILM alumni performing the Dandiya Dance
iFest
IFest is an annual Event at IILM over a two day period organized in December every year.
Students are the prime mover in this event. It is a cultural-cum educational event comprising multiple activities and programs.
The festival blends education and entertainment, and has participation of many colleges and institutions in the NCR (National Capital Region of Delhi). Various festival events are organized in a competitive and friendly spirit, with independent judges deciding the results of the contests. More than 15 events/competitions are conducted, ranging from singing, theatre, sports, and competitions requiring intellectually inputs.
IILM STUDENTS PERFORMING AT iFEST December 2013
IILM's 'Vivekananda Memorial Debate' is our flagship event. This event invites large participation from leading institutions (IIMs, IITs etc) from all over India. The multi tier 'Vivekananda Memorial Debate' involves an elaborate process of screening at various stages before finals are conducted.
The 2013 Vivekananda Memorial Debate was won by the team from St. Stephens College, Delhi.
IILM students are the key element behind Success of Vivekananda Memorial Debate
Cross cultural learning and interaction with Visiting foreign students
A large number of foreign students visit IILM for Short Term Programmes or as an exchange students. IILM students also have the option to study in our foreign partner universities.
---